Cosina was one of earliest camera and lens manufacturer that is categorized as an Original Equipment Manufacturer (OEM) in Japan. Production for renowned foreign brands started in the early seventies. These include compact and SLR cameras, rangefinder and lenses for brands such as Vivitar, Zeiss, Minolta, Pentax, Nikon, Canon , Ricoh, Leica, Phoenix, Soligor ,etc.
At present, they are among the few surviving lens manufacturer based in Japan. The years of collaboration with other photographic companies gave them competitive advantage in honing their craft in camera and lens manufacturing. Cosina manufactues the Zeiss Otus lens lineup that represents the very best in lens optical benchmark performance.
My first Cosina lens is a rebranded Pentax – FA100 f3.5. It's basically the same AF lens marketed by Vivitar, Promaster and Cosina but with Pentax SMC coating and electronics. When I  started using a DSLR, I wanted a cheap macro prime lens from Pentax. During that time, the local distributor had only a brand new FA50 f2.8 and FA100 f3.5 in-stock and the FA50 was twice the amount for the FA100.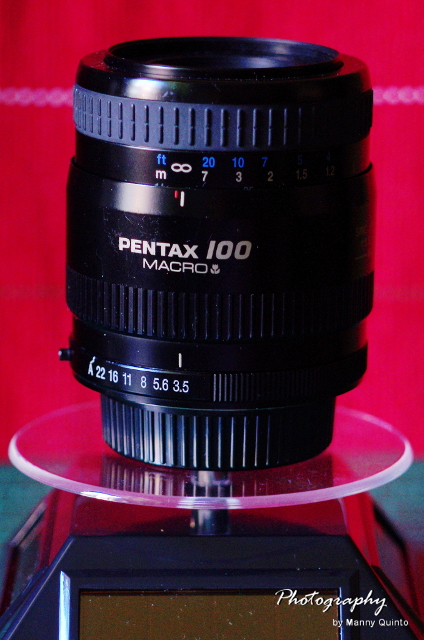 I wasn't bothered by the plastic construction feel of the lens since the only lens I had was the kit lens and it too was made in similar fashion. The reviewers were right about mentioning its fantastic rendering and sharpness. Very usable even wide open. It's not a true macro that goes 1:1 and Pentax did not include the matched macro adapter in the package but it was good enough for my needs. What I don't like about the lens is its dreaded purple fringing and the loud grinding noise it creates when focusing.
I had to confess that the lens did not jive with me during that time. I was more interested in using the DAL 55-300 (a lens I acquired a month after buying the FA100) and prefer to attach a Raynox 250 when I wanted to get closer to the subject. Then one summer day, my family decided to go to the village public pool and I took my camera along and took this picture:
I was amazed with the colors and sharpness of the photo that the lens had produced. From that day on, it became my outdoor go-to portrait lens whenever I had a chance to go shooting under the sun. Of course I still use it for flowers, insects and the like but it was used more for outdoor portraits from then on. And before I forget, I like the rendering it makes when shooting a subject with a distant colorfull background. It does stand-up to its reputation as being called the original "plastic fantastic" lens.
–MCQ
Photo Gallery