XR Rikenon 28mm f3.5 Aspheric
This is the third part of My Cosina Lens Collection Series. My third Cosina lens is the Rikenon XR 28mm f3.5 Aspheric lens which was introduced in 1996 according to "The unofficial Guide to Ricoh cameras and Rikenon lenses". It's known as one of the few interchangeable wide-angle SLR pancake lens during that period. This lens predates Ricoh's famous GR 28mm f2.8 for Leica by a year and about 6 years before the VC Color-Skopar 28mm f3.5 was released. If we were to compare the looks and size, it would be more akin to the the rangefinder Avenon/Kobalux 28mm f3.5 lens.
My assumptions to conclude this to be a Cosina made lens is in its similarity in construction with the Rikenon 45 and the coincidental timing of its release. The middle of the nineties was the period that Ricoh introduced numerous versions of Cosina's owned design lenses for sale. It seems that during those times, both companies were working together closely and Ricoh had commissioned a lot of cameras and lenses from Cosina.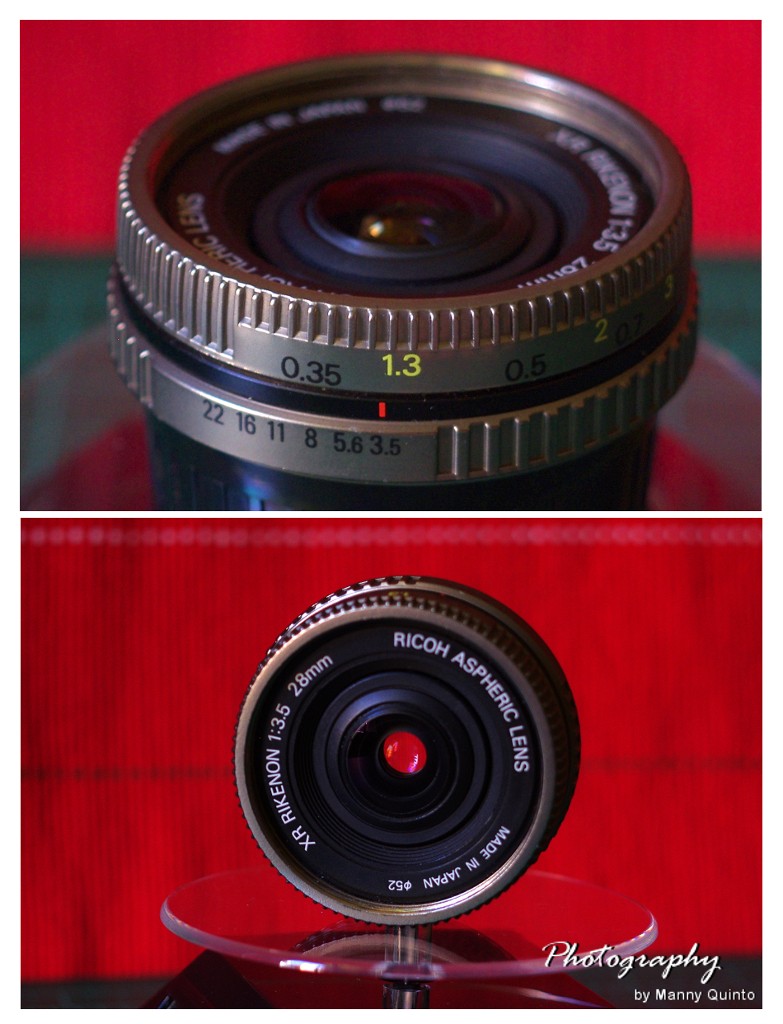 The Rikenon XR 28mm f3.5 Aspheric lens appeared with an unusual "earth bronze" color barrel which seems to match the Cosina manufactured Ricoh XR – 8 Super camera body that has the same color . It was discontinued after just a year of production. The number of units manufactured is unknown and is quite hard to obtain at present than the XR 45. They do come out occasionally for sale on ebay for around $200 to $350.
It has a 6 element in 6 groups lens construction and made of entirely plastic with the exception of the PK metallic mount. It accepts 52mm filters just like the XR 45 and weights a bit more at 55 grams. It has a minimum focus distance of  0.35 meter which is pretty amazing close.
Photo taken at minimum focus distance.
My copy was obtained locally from an importer of used camera goods from Japan. It has decent sharpness when used wide-open on an APSC camera and renders bokeh very smoothly. Manual focusing on the Ricoh GXR is a bit fiddly and my copy focuses beyond infinity. Set to f5.6 or f8, when focus correctly, you will be rewarded by a pretty sharp "3D pop" image.
-MCQ
Photo Gallery